French Tips Nail Polish Stickers - Marble
Are you tired of nail polish that takes forever to dry and smudges easily? Take a look at our latest range of instant real nail polish stickers. No need to wait in the salon, easy to apply in the comfort of your home. Lasts for up to two weeks!
Smudge free
Painted with real nail polish
No drying time required
No damage to the nail bed
Bubble free smooth finish
To remove use nail polish remover
Each pack contains a nail file, cuticle pusher and consists of 18 nail stickers in various sizes which are sufficient for two applications. A top coat is optional (drying time two minutes) to give you that extra shine.
Despatched same day from U.K warehouse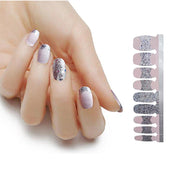 French Tips Nail Polish Stickers - Marble