Tweezers - Gold Straight Precision
Gold Straight Precision Tweezers
Our Gold Straight Precision Tweezer are the perfect addition for the application of basic individual lashes and normal false lashes.
Pick, glide and apply lashes onto your lash line with the smoothest application ever with our Gold Straight Precision Tweezer. Beautifully crafted to help you create a flawless, professional, stunning lash look every time.
Perfect for separating individual lashes or picking up individually. Our Gold Slanted High Precision Tweezers are ideal for creating a professional look in seconds, whether this is at home or at the salon we've got you covered with our easy to use grip applicator!
Suitable for all false lashes, this includes individual and normal.
Despatched same day from U.K warehouse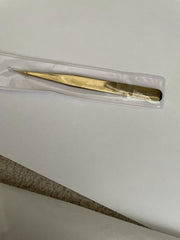 Tweezers - Gold Straight Precision