3D Faux Mink Lashes - Lunetta
3D Faux Mink Lashes - Lunetta is made from 100% silk natural fibres. Ideal for those who want to create a fierce, dramatic look.
These amazing double layered fabulous 3D faux mink lashes have wispy curls with bunched lengths and a long curl at the ends, giving that fabulous alluring look. 
Our Lunetta lashes are perfect for those seeking a fierce look, now is your chance to stand out from the crowd.
These lashes are lightweight, flawless and a must for all lash addicts. If you are looking for an old style Hollywood look, our Lunetta lashes will transport you back in time. 
Our Faux Mink Lashes range are:
• Suitable for all eye shapes, but also easy to trim , size and shape.
• Adhesive included
• Comes with instructions
• Guaranteed Curl for three years
• Comes in a keepsake box
You are only one step away from achieving that fierce false lash look you've always dreamt of.

Check out our range of faux mink for more styles and inspiration!
Despatched same day from U.K warehouse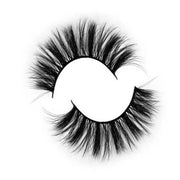 3D Faux Mink Lashes - Lunetta