We all have jewellery that we wear everyday and sometimes it's nice to have these items nearby. Our Mini Jewellery case is a little cute addition for all jewellery lovers! 
Keep your delicate and expensive jewellery items safe with this jewellery case.
With a beautiful compartment made with soft sponge, your jewellery will feel like it's sitting on a cloud. 
It's small and can be kept on your makeup table and you can always take it with you when you travel! FInished with a gorgeous tassle for that extra detail. 
The Mini Jewellery Case includes:
1 small row for you to keep your rings and earrings
Space to keep additional jewellery items 
A pouch for delicate jewellery 
2 hooks for one pair of earrings 
Despatched same day from U.K warehouse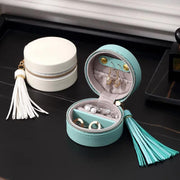 Mini Jewellery Case