Synthetic Hair False Lashes - Purple Tipped
Purple Feather Tipped False Lashes

Criss cross lashes with eight purple floret tips on each lash. Let your eyes do all the talking, with these lashes, each blink will look like a beautiful flutter.
Perfect for special occasions. These false lashes are easy to apply, comfortable to wear and re-usable.
Includes Clear Adhesive.
Despatched same day from U.K warehouse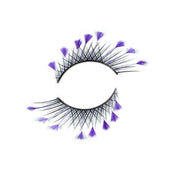 Synthetic Hair False Lashes - Purple Tipped