3D Faux Mink Lashes - Sloane Girl
Faux Mink Lashes - Sloane Girl are made from 100% silk natural fibres. Ideal for those who want to add a bit more definition and would like a natural look.
Classic light natural lashes ideal for the Chelsea set and strolling down the Kings Road with your Chanel bag!
Our Faux Mink Range Lashes are:
Thin clear lightweight band
Comfortable to wear
Long lasting with our amazing Rimini Glue
Reusable can be worn up to 20 times
Light as a feather and feel natural on eyes
Suitable for everyday use
Made from finest quality silk strands
You are only one step away from achieving that defined false lash look you've always dreamt of.

Check out our range of faux mink for more styles and inspiration!
Despatched same day from U.K warehouse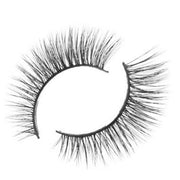 3D Faux Mink Lashes - Sloane Girl