Velvet Collection Nude Natural Plump Effect Lipstick
Velvet Collection Nude Natural Plump Effect Lipstick 
Add colour, shine and plump your lips to the max with our natural plump Effect lipstick.
Available in 9 beautiful nude shades, with coverage for hours, and the creamy matte formula will leave lips with fullness that isn't that overwhelming.

Our natural lipstick plump effect is 100% natural ingredients and only temporary so you can always feel assured knowing that nothing can go wrong and your lips won't feel tingly.

Long lasting coverage
Creamy sleek velvety matte finish 
100% Natural ingredients 
Despatched same day from U.K warehouse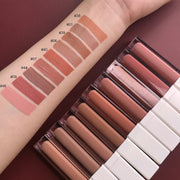 Velvet Collection Nude Natural Plump Effect Lipstick