Premium Extension Lashes - 6D Russian Volume - Pre Made Fanned Lashes (select options)
Our 12 Line tray consists of 120 pre fanned lashes, there are 6 individual lashes pre glued ready to apply to the natural lash.
We highly recommend that you only apply one Rimini Pre-Fanned Lash to a natural lash. As these are super fine and lightweight and 0.07mm thick, these are lighter than one single 0.18mm of a similar lash.
720 lashes per volume tray
Knot Free and Easy to Apply
Ultra Super Soft and Lightweight,
Will not damage clients natural lash
Despatched same day from U.K warehouse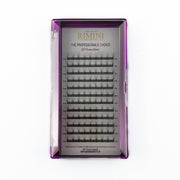 Premium Extension Lashes - 6D Russian Volume - Pre Made Fanned Lashes (select options)