BEST SELLER
Beauty fridges are not just perfect for aesthetic and storage reasons, but they help keep your lotions, creams and capsules cool!
Chilling your skincare products can benefit your skin by reducing puffiness and boost circulation in the skin.
Our beauty fridge is available in a beautiful pastel pink with an electroplating buckle that is retro and elegant. 
With 3 shelves, large capacity drawer and two side layered lipstick stands. You can store all your creams and lipsticks in one place, and keep them fresh and ready to apply. 
Check out our range of beauty capsules coming soon. 
Despatched same day from U.K warehouse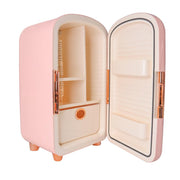 Beauty Fridge