Luxe Collection - Short/Medium Press On Nails - Circle Clouds
$6.00
Regular price
$9.00
With our press on nails you can have salon results in seconds at home easily and conveniently.
Press on nails are perfect for special occasions and will stay on for up to 1 week.
Our collection is handmade and flawlessly painted and finished to make the nails unique and full of style.
Each set includes 24 false nails with glue tabs included
TIPS
Press on nails is great for when you can't afford to go to the salon and if you don't have the time. They are more cost effective, will save time and won't damage as easily and your natural nails will stay the same.
The incredible thing about press on nails is that they won't damage as easily as other false nails. The nail is made of plastic but is strong and crafted to last long. Press on nails don't lose their finish either, they will continuously shine.
If one of them chips or falls off all you need to do is file it slightly, you can clean it a bit with alcohol and glue it back on. Make sure you don't file the nails harshly or drill as this will damage the press on nail.
You can shower with press on nails but you it's best to ensure that they are not wet for a long time as this is when they can become flimsy.
How to apply
STEP 1.Select the correct size required for the press on nail and glue tab.
STEP 2.Place the glue tab on the back of the press on nail as shown in the video.
STEP 3.Peel the back of the tab and then apply onto your own nail
Press down firmly and you're ready to go!
Important: After applying do not get your nails wet for 3 - 4 hours
Lasts up to 3-10 days
Can be reworn
Easy to apply
Comfortable to wear
No damage to nailbed
Can be applied with nail glue to last longer
Professional salon results at home
Remove press on nails with warm water
STEP 1.Fill a bowl with warm water and add a few drops of soap.
STEP 2.Soak your nails in the warm water for 20 minutes before you try to remove them.
You can try moving the nails around while you are soaking so that they loosen up.
20 minutes should be enough time for the glue to loosen sufficiently to peel the nails.
STEP 3.Fill a bowl with warm water and add a few drops of soap.
Remove press on nails with rubbing alcohol
STEP 1.Apply rubbing alcohol or an alcohol-based hand sanitizer around the edges of the extensions and wait 30 seconds.
STEP 2.Next, gently rock the extensions from side to side to lift them off your nail beds. You can apply more rubbing alcohol throughout the process until the press-ons come off.
STEP 3.Once they're off, give the backs of the press-on nails a quick wipe down with rubbing alcohol to make sure you fully remove any remnants of the adhesive. This will keep them in good condition so you can reuse them.
Despatched same day from U.K warehouse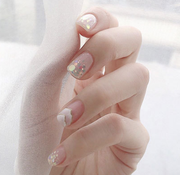 Luxe Collection - Short/Medium Press On Nails - Circle Clouds
$6.00
Regular price
$9.00